Oxford
Home to both the University of Oxford and Oxford Brookes University, the city of Oxford is a bustling hub of student activity. The city has a long tradition of producing some world class graduates that are constantly in demand from employers. Both universities are famous for producing graduates that are able to easily adjust to the working world. We wanted to know what it was exactly about graduates from the city of Oxford that was so appealing.
To do this we looked at the data we collected from graduates who studied in Oxford and the results showed us exactly what we thought it would. Looking at the data from those who graduated between 2009 and 2014, we could then draw comparisons and trends of graduates from Oxford and compare them to national statistics from those from the rest of the UK. We particularly looked at career directions, academic and achievement and whether or not they had work experience.
Sectors
When registering with graduate-jobs.com, graduates are given the option to choose which sectors they would like to work in. By looking at the chosen sectors of graduates from the city of Oxford we can see that they have similar interests to those in the rest of the UK.
The most popular sectors for graduates who studied in Oxford were Marketing, Management, Finance, Advertising and Public Relations and Banking. These are exactly the same as the ones voted for by the rest of the UK. This is not a surprise as these five sectors are ideal for graduates from a range of degree backgrounds.
Degree Classification
Oxford is a city built on academic esteem and the highest standards and this can be seen in the results given to their graduates. With a reputation to maintain, graduates really have to work hard to achieve their grades and this is evident in the well balanced results of their classifications. For example, just 10% of students received a first, only 0.2% higher than the national average.
While the hard work can be seen by those who received the next classification down. While 48.1% of people nationally received an Upper Second Class degree, an impressive 55.5% of people also worked hard and managed to receive this grade. With the tightly held reputation of both Oxford Universities, it is no wonder employers are impressed by these figures.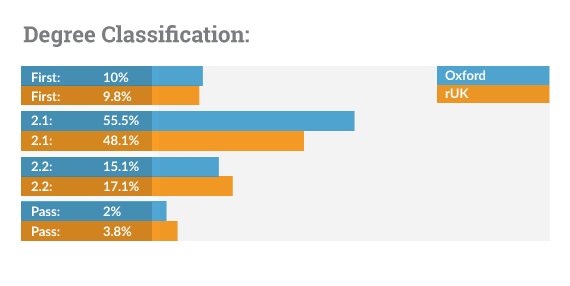 Work Experience
The university degree nowadays is no longer a passport to a great job, graduate employers are overwhelmed with applications so are looking for people who can already do the job or have experience of the work place. This coupled with a good degree is a fast track to a fantastic career. But how did graduates from Oxford fare?
Very well it turns out. Whilst studying to get a great degree, an impressive 23% of graduates from Oxford managed to find the time to do an internship, work experience or have a part time job. This was well above the national average of just 16.6%. Having both the good degree from a good university and work experience alongside that, it is no wonder that employers can't wait to offer graduates from Oxford positions and career opportunities.